Re: Project 93 GS300 5 speed
Updates of whats been going on! Just finished school for the summer. I trimmed my front bumper a little bit that was interfering with boost couplers. I removed the rear seat and installed a Walbro 416 (@ 12v) lph fuel pump. I figured for the OEM TT levels I am at now, without an upgraded fuel system I would use stock wiring. I jumped the incoming battery wiring into the FP ECU and used an inline fuse to connect to the fuel pump, bypassing the fuel pump ecu but leaving the other connectors in tack. In the future I will run a separate line from the battery when I upgrade to a fuel pressure regulator and single turbo.
Ended up winning a new HKS FCD on ebay for $50, also I picked up some used parts for my maintenance that includes vvti coil packs and a 6 speed serpentine tensioner setup. Going to replace the plastic pulley with my metal one that has a new bearing in it.
Picking up these parts new from Toyota:
16100-49847* Water Pump assembly $120.58
90311-46001 Front Main Seal $10.68
90311-40020 (x2) Camshaft Oil Seals $5.51 ea
Gates serpentine belt # K060763
90916-03093 Thermostat $15.48
16325-62010 Thermostat O-ring $4.24
13505-46041 Timing Belt Idler $66.68
13568-49036 Timing Belt $26.64
13540-46030 Timing Tensioner $57.70
11213-46030 Valve Cover Gasket INTAKE VVTI SIDE $10.47
11214-46011 Valve Cover Gasket EXHAUST SIDE $11.91
90210-26002 VVTi Pulley Front Seal $.72
15678-32010 VVTi Actuator Filter Screen $3.40
On the way to school I had a nice WOT pull which felt great, and going up my campus hill my car started sputtering and losing fuel which left me dead. Was able to restart and limp it to the parking lot and got it towed home.
Replaced my fuel line, it had a hole in it. Thankful that it was a five dollar fix that only required me to remove the back seat.
Won an JZS147 OEM strut bar on ebay and also purchased a HKS turbo timer, an autometer boost gauge with mount, new tan shift boot and exhaust gasket to fix my leak.
Still waiting on my OEM toyota parts which will come in Monday, and since the following weekend is superbowl Sunday.. that wont work for me. So I am planning on doing some repairs a few weekends from now.
So I ended up getting that cheap HKS FCD standard today, pretty sweet cause it was unused and came with the original box and packaging manual and connectors. Set to setting 9, warmed up my car and took it for a test drive. Success! No more fuel cut and I am able to do full throttle pulls. Pretty happy with that purchase!
Got my leather shift boot on and fit it. No more cabin fumes! yay!
Installed my OEM JZS147 strut bar that came:
Need to re-do the lines for my power steering reservoir and mount it securely, but back to studying for me!
- - - Updated - - -
Small update
Gauge pod had to be cut out in the back a little to allow the vacuum hard line to protrude. Wired the 12v from the accessory cig lighter power and grounded it to a stud on the transmission tunnel. Going to change my vacuum source as I tapped into the fuel pressure regulator VSV and i ended up hitting fuel cut oddly.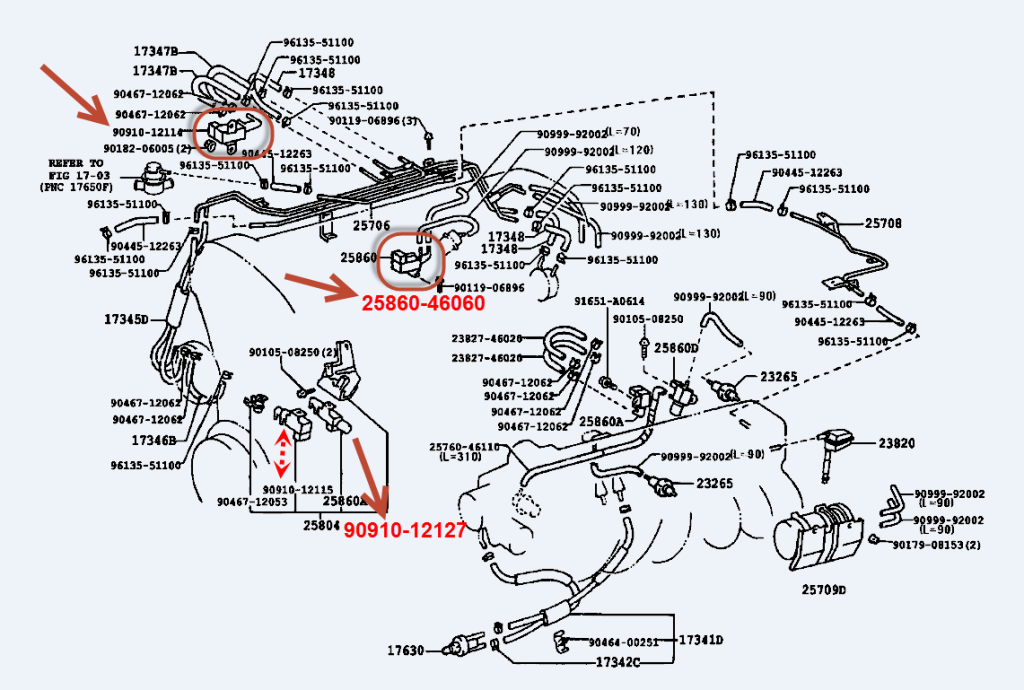 Currently have it T'd into 25860D, when it should be on 25860A on the map sensor.
Some maintenance is done :P
Me and my bro would've finished in one day if I was supplied the right gaskets, but nonetheless **** came up wrong. I ended up not getting a second cam seal in my order, and no upper water neck gasket in my water pump kit. Came with two thermostat gaskets though! SCORE!... lol
tomāto, tomăto? Found this funny on the water pump of my car. Matches my P/S reservoir!
So, disassembly went pretty smoothly. I didn't take pictures of much because I had my gloves on and dirty. I followed the IS300 2jzge service manual as far as the VVT-I cam settings go. I picked up the o-ring from power dynamix and our install went easier and faster than his instructions. He unnecessarily disassembles the internal gears and tells you how to line them back up. But we avoided messing that up. After the cam seals (using a puller instead of removing the caps); and installing the full water pump (front and back half assembled from toyota) along with the connecting pipe and new o-rings everywhere. New idler pulley and tensioner installed along with front main seal.
At that point the vvt-i filter was cleaned after only 5000 miles was quite a bit gunked up. New one from toyota ended up being the wrong part, some how. Cam gears went back on and lined up with the dots. Old belt on top of motor still in great condition.
Next up is the new belt installed and nicely lined up!
One thing I failed to take a picture of, but will describe is the 6-speed supra or is300 5 speed serpentine belt tensioner w/ shock absorber shown above. Installed my metal pulley on it with a new bearing and its very nice. Quite happy with how it works! The amount of engine torque now needled to flip a belt is high!! :P Hard shifts wont be a concern. For those of you with an Auto this isn't necessary.
The only thing I didn't replace was my serpentine belt but that was done recently. Got under the car and tightened up the rear water pipe, threw the radiator in and got fluids in it. Started up in the first crank, like 1/2 second after having the battery off for 3 days. Happy about that! Idles perfect and no more oil leaks.
So school has been hectic and busy as heck trying to bring my GPA up! But spring break is next week and I will be working on my car, and updating with picturessss! I picked up some 285/45ZR-18 Pirelli P Zero System Asimmetri's for $98 each from tirerack on discount! 2011 production... yeee. Definitely need to roll my fenders to get these to fit so that will also be in order.
Picked up an 9006 / HB4 Xtreme Digital HID Conversion Kit with 4300k Philips Bulb Upgrade from KBcarstuff and got a clublexus 25 dollar off coupon. Also going to be throwing my car on the alignment rack to adjust the rear end, and when that happens I will do an oil change and install the new speedometer sensor.