As aforementioned in the video thread I posted for the car, I've purchased another MK1 Aristo. I've had this under wraps for about a month or so now. I know the look of the car isn't for everyone, but I like it and since I bought it, that's all that really matters
I've been looking for another Aristo now for quite some time. A few nice clean cars have come up over the time I've been looking, but I wasn't after something stock. I wanted a car that had at least a few modifications. Rims, suspension and exhaust at a minimum and the V-model with the twin turbo 2JZ-GTE engine of course! Lower kilometers would be a benefit, but wasn't a deal breaker for me. I'll take a higher mileage car with service records showing maintenance has been done on time rather than a low mileage car with no service records any day.
There's been lots of talk of people waiting for MK2's to come up in a few years, and there are a number of other cars I wouldn't mind trying out as well. I had sort of given up hope of the right car coming along, so I was looking into some other vehicles. I guess, at heart, I really wanted another MK1 Aristo because I couldn't help watching auctions to see what was going through. Then, one fine day, this one came up at auction.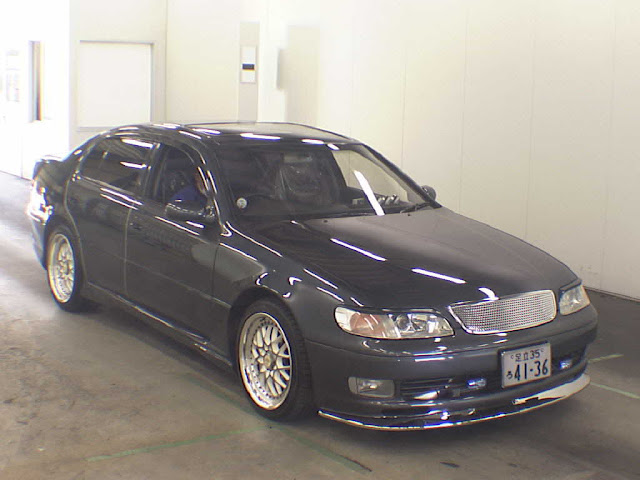 From the photos and my own interpretation of the auction sheet it looked pretty good. From the photos and auction sheet I assumed no more modifications than I could see plus probably some kind of aftermarket BOV. It also looked like the aftermarket front lip had paint peeling across about half of it, but that would be easy enough to fix. Things looked pretty good to me, so I had Mark at Brave Auto look into the car further. The good thing was that Mark also does paint work, so I could easily have the front lip resprayed.
Aside from aftermarket parts noted on the auction sheet Mark let me know that the car has only had one owner, comes with complete service records and, as indicated on the auction sheet, it comes with a very long Shaken Inspection history. Mark had an inspector look at the car for any other outstanding issues and also common problem areas that he car has. The only problems that came up was that the driver's seat was making some noise when moving it and the car had a fuel leak.
Nothing too big to worry about, so I requested that we proceed with my maximum bid. The next day Mark gave me the bad news….that I owed him money LOL. From here on out it has been nothing but good news. Mark provided his usual exceptional level of service, and the car has more extras than I thought it would. Also all of the modifications were quality items and they were installed properly with care. From looking at the service records Mark told me that the previous owner had service items completed well before they were due and it was almost definitely someone's true pride and joy. With this and the number of performance upgrades as well as cosmetic I thought "I wonder if the previous owner got the factory LSD option?" Had Mark look at the VIN plate and sure enough…factory Torsen LSD. What a sweet bonus that was!!!!
Yeah, Yeah, hold on….the pictures are coming….As mentioned with Mark's superb level of service he did a bit of repair to the driver's seat to make it run more smoothly and quietly. He put the car up on the lift and there was no fuel leak to be found….Great!!!
Oh, and that paint peel on the front lip….nope, it's chrome! LOL I guess it's just the way it was reflecting in the auction photo made it look like it was paint peeling.
Since the car has so many extras a complete list hasn't really been made, but this is what I have put together based on the photos Mark has provided:
Factory Specs:
1992 Toyota Aristo V
Gun metal grey….ish
Cloth interior
Auto
Cruise control
12 Disc CD stacker in the trunk
Power folding and heated mirrors
Air purifier
Sun roof
Rear Spoiler
Power tilt steering wheel
Aristo trunk floor mat
Protective edging on doors (maybe not factory, but it's a Toyota part)
Torsen LSD
Body:
Aftermarket front lip (chrome)
Aftermarket skirts and rear bumper
Chrome edge on doors
Aftermarket chrome grille
Eyelids
Drip visor on top of windows
Wheels, Suspension and Brakes:
18" Work VS wheels (I think they are a version of VS…)
Near new Bridgestone Potenza tires all around (235/40 and 265/35)
Slotted brake rotors (I think Dixcel rotors and pads)
Braided stainless steel brake lines
HKS Hypermax LS+ coilovers
Other Aftermarket Goodies:
Apexi AVC-R (digital boost controller, I think it is boosting to 1.0 bar right now)
Apexi blow off valve
Apexi AFC
Pivot Gauges (oil temp, oil pressure, water temp, boost)
PIAA fog lamps
Turbo timer
HKS Intake
HKS intercooler (probably Type S)
Remote oil cooler
Aftermarket horn
TRD 1.3 bar radiator cap
Fujitsutubo cat back exhaust
And here's a number of photos
As I mentioned to Mark, I think I'm going to have to move as a result of purchasing this car. I'll need to move somewhere that I can store the car in a garage, or under cover at a minimum.